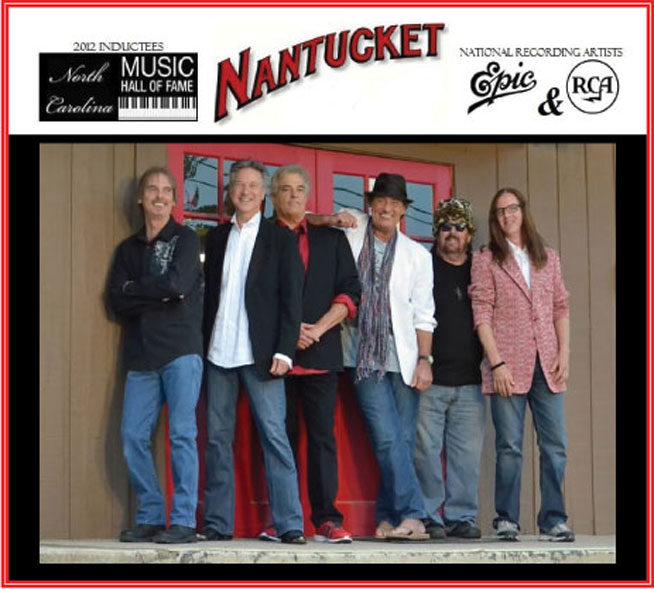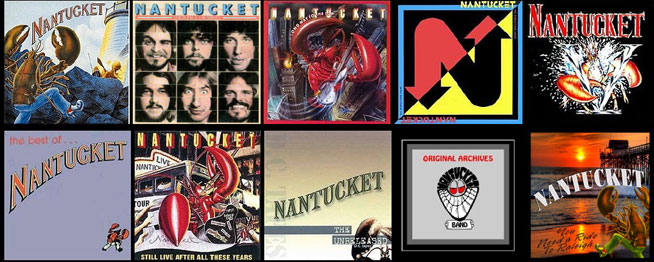 NANTUCKET: A Legendary Institution of Rock N' Roll

Nantucket, originally from Jacksonville, NC, formed in 1969 as a Soul / R&B cover group called Stax of Gold. They later re-named themselves Nantucket Sleighride after the album and song by the Leslie West led rock group Mountain, who are best known for their classic "Mississippi Queen". Later dropping Sleighride from their name, Nantucket were signed to Epic Records in 1977. Their debut album was released un July 6, 1978 and it included their massive hit song "Heartbreaker" as well as other classics such as "Born In A Honkytonk", "She's No Good", "Never Gonna Take Your Lies" and "Quite Like You". Nantucket went on to share the stage with the most popular bands of the day... from AC/DC to Yes. While maintaining a demanding touring schedule, they also managed to record two more solid albums for Epic Records in 1979 and 1980 consecutively. Your Face Or Mine? and Long Way To The Top were very pleasing to their fans around the world by giving them potential hits such as "I Live For Your Love", "California", "Time Bomb", "Too Much Wrong In The Past" and more. However, due to changes in management at Epic, Nantucket became lost in the shuffle. Even though they recorded two more popular albums for the RCA and Executive labels in 1983 and 1984, they were unable to break through to achieve the "Superstar" status that so many other groups they shared the stage with had attained. But, Nantucket's story did not end with a bitter breakup like most bands that have fallen prey to similar music business pitfalls. Changes in personnel did occur within the group but, the band pressed on while maintaining an active touring schedule. In 1988, the original lineup began a string of reunion shows that lead to what many consider to be their best album. Still Live... After All These Years, is a live concert recording from 1991. Upon it's release, the album was awarded a five star rating from the notable rock magazine Kerrang. The album confirmed what Nantucket's fans had been saying for years... Nantucket is a force to be reckoned with on the live music stage. Their classic material, as well as some newer compositions, presented in the live format on the album breathed new life into the songs for the fans which in turn breathed new life into a band that the music industry had all but written off.

Nantucket has never lost sight of the most important element that propelled them and their music to securing the almighty recording contract with Epic Records way back in 1977... THEIR FANS. Nantucket is a band for the everyday working class folks who believe that hard work will payoff... even if it means working hard everyday for 35 years to reach a goal. If not for the hard core fans around the world that continue to come to the shows and send messages of respect and love for the music, this band would have surely turned in their two weeks notice long ago. A career of 35 years for many people usually calls for retirement but, not for the guys in Nantucket. They continue to work hard and remain very popular with their fan base while maintaining a legacy of great music. In the recent years leading up to the 35th anniversary of their first album, their hard work is paying off as they have been riding a wave a recognition within their home state of North Carolina. The band was honored with a Lifetime Achievement Award by the Charlotte Music Awards in 2008. In 2012 they were inducted into the North Carolina Music Hall of Fame where they are now among other notable legendary stars such as James Taylor, Andy Griffith, Ronnie Milsap, Charlie Daniels, Ben E. King, Doc Watson, George Clinton, John Coletrane, Tori Amos and more. Their latest release, You Need A Ride To Raleigh, has garnered them several award nominations within various Carolina music communities. They have been touring over the years while maintaining most of their original members, which is a feat most groups are typically unable to do. Since Nantucket's inception, the band has boasted some of the most prolific musicians ever brought together in one group such as brothers Larry Uzzell on vocals, trumpet, harmonica and percussion and Mike Uzzell on bass, keyboards and vocals along with lead songwriter and guitarist Tommy Redd, who also provides vocals, and saxophonist Eddie Blair, who offers up keyboard and vocal skills as well. Nantucket, for quite some time, has boasted longtime powerhouse drummer Jason Patterson, who is a founding member of the popular 1990's rock group Cry Of Love. The newest member of Nantucket is guitarist virtuoso Ronnie Waters who, as a true master of his craft, became an instant fan favorite.

Nantucket has had a phenomenal live career as a headline act as well as an opening act for many of the most notable names in Rock N' Roll. The following are just some of the artists they have had the pleasure of sharing the stage with...

AC/DC
The Allman Brothers Band
Jeff Beck
Boston
The Cars
The Charlie Daniels Band
Cheap Trick
The Doobie Brothers
Foreigner
Heart
Journey
KISS
Lynyrd Skynyrd
Meatloaf
Mother's Finest
Ted Nugent
REO Speedwagon
The Romantics
Wet Willie
Yes
38 Special
And the list goes on...

Nantucket will be the subject of a new documentary that is currently in production. They have also entered the recording studio as their fans are awaiting new music. A live video and CD release of their reunion / 35th Anniversary celebration from Dec. 28th 2013 at The Lincoln Theater in Raleigh, NC is undergoing the editing process prior to it's release. It's been over 35 years since the release of their first album and yet Nantucket has embarked on another new and exciting chapter in a career that has truly been a thrill ride... and what a ride it has been.

Video:
Quite Like You - From June 1 show at The Doghouse in Fayetteville, NC.

Your Place Or Mine - From June 1 show at The Doghouse in Fayetteville, NC.

Living With You - From the American Music Festival in Va. Beach

Audio:
Heartbreaker

Gimme Your Love

Quite Like You

California

Links:
Facebook

Nantucket Radio

Wikipedia

Photos: