NOW AVAILABLE!
Nantucket's latest radio hit!
TARHEEL GIRLS
To hear a short sample
Click Here
Get the instant download
in the store right now!
---
New T's Available
In The Store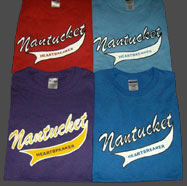 In celebration of the 35th anniversary of the release
of Nantucket's first album, the band has commissioned a limited edition new t-shirt available in the colors of
the five colleges that
helped launch the band.
NCSU Red
UNC Blue
ECU Purple
Duke Blue
Wake Forest Old Gold